I love to share my garden and what I do and grow there, I run workshops and have open garden days so people can visit and hopefully get inspired. But tonight I had an opportunity to share the garden and my lifestyle with the nation, thanks to ABC Gardening Australia which filmed and aired a segment titled "A Productive Paradise".
The program's host Costa Georgiadis and myself talk about many interesting edible and medicinal plants, then proceed to make a comfrey ointment on camera. We had such fun, we forgot about the camera rolling!
I hope you'll enjoy watching the video as much as I did!
To watch, click on the link: Gardening Australia: A Productive Paradise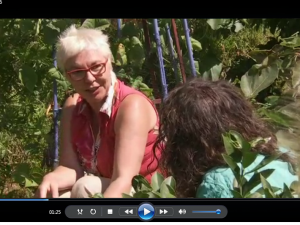 The recipe for a medicinal comfrey ointment made by Costa and myself on air is now available online as one of Gardening Australia fact sheets:  Fact Sheet: A Productive Paradise