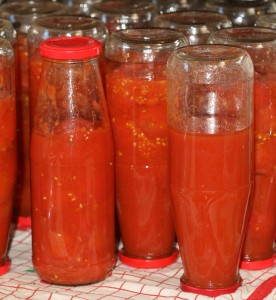 Nearly everyone knows about the Italian passata. The traditional way of preparing it is to run cut raw tomatoes through a passata press, pour the resulting thick liquid into sterilised bottles and pasteurise for 40 minutes in a water bath.
Here is my take on preserving whole tomatoes in passata (the boiled method), the recipe courtesy of my Mum. It is perfect for beginners; simple and you do not need any special equipment, such as a passata press or a pressure unit (for example, Vacola), just your everyday pots and kitchen utensils.
Ingredients:
2 kg tomatoes (1kg good quality to preserve whole, 1 kg "seconds" to make passata)
2 teaspoons of salt
You will also need: two pots, a large sieve (nylon or metal) and a wooden ball stick (or a similar tool). And, of course, jars or bottles with lids.
Preparation:
Passata: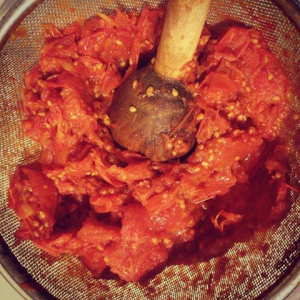 Wash tomatoes and cut them (halve the small ones, quarter bigger ones) into a pot.
Bring them to boil then simmer till they fall apart.
Set the sieve over another pot.
Pour the cooked tomatoes cup by cup into the sieve, pressing and rubing them through the sieve with a wooden ball stick (see the picture).
Continue rubbing until all that's left are seeds and thin pieces of dry skin.
Add the salt to strained tomatoes, mix well to dissolve it.
Tomatoes:
Make sure they are not bruised or blemished, then wash and core them. You can preserve whole tomatoes in skins or peeled:
Skins on: puncture the skin in several places with a toothpick
Peeled: cut a small cross where the stalk was, then immerse tomatoes in boiling water for about a minute or two – just long enough so the skin slips easily, but the fruit is not cooked.
Whatever method you choose, pack whole tomatoes into sterilised glass jars or passata bottles.
Pour passata over them until the liquid reaches about 2-3 cm from the top of the jar.
Close the jars. If you use twist-on metal lids, put them on and turn lightly, but do not tighten.
Pasteurise in water bath (pot lined with tea towel or similar fabric, filled with water up to 2/3 of the jar height). For ½ litre jars pasteurise for 30 minutes from when water starts boiling, for larger jars 35 minutes.
Tighten up the lids then take the jars out of the pot to cool down on a piece of fabric or newspaper.
When cool, check if the lids are airtight (they should be slightly concave).
Store in a dark pantry.
Now imagine savouring these summer-flavoured tomatoes in the winter to come!