After the harvest day a basket of turmeric is waiting in my kitchen to be used. I admire its rich, orange colour every time I cut a piece open (even if it stains everything around bright yellow; no wonder it is used as a food and fabric colourant!).
Originating in Southern India, turmeric (Curcuma longa) is primarily a medicinal plant which has been used for millennia in South and Southeast Asia. Curcuminoids (of which curcumin is the best known one) present in turmeric are active compounds of medicinal value:
Turmeric is best known as a strong anti-inflammatory, particularly useful in inflammatory joints and intestinal diseases. It has no toxic side-effects, unlike phenylobutazon, hydrocortizon or ibuprofen (which are commonly prescribed for such problems).
An antioxidant, it prevents cholesterol oxidisation, protecting people from developing diabetes and heart diseases.
Stimulates liver functions.
Limits cancerous growth and cancer spread (so far tests have been conducted for breast, prostate, lung and bowel cancer).
Topically turmeric acts as an anti-inflammatory, anti-allergenic and an anti-oxidant. It is useful in treating acne (also rosacea) and psoriasis, as well as nappy rash and eczema in children.
Turmeric is very easy to grow in warm and hot climates, as long as it is well-watered and sheltered from winds. I grow it in Sydney over the spring-summer season to harvest about 1 kg of finger-shaped rhizomes from each plant in autumn.
These bright orange rhizomes can be dried and powdered, grated fresh into food and drinks, pickled and converted into medicinal tinctures. Remember to save a few for next spring planting!
Fresh Turmeric Medicinal Tincture Recipe from a Polish-language blog "Na Cieplo i Zimno"
Ingredients:
1 cup (250 ml) each of: grated fresh turmeric, ethanol spirit, fresh squeezed grapefruit juice.
Finely chopped grapefruit skins
1 heaped tablespoon of freshly ground black pepper */
½ cup (125 ml) of raw honey
You will also need:
1 L airtight jar with a rubber seal
1 cup of dry or semi-dry white wine (a week after starting the tincture).
*/ Turmeric's active ingredient (curcumin) is absorbed much faster in the presence of piperine (which is the substance that makes black pepper hot).
Preparation:
Wash the grapefruit before peeling and juicing (I extract 250 ml of juice from a 500 g grapefruit just picked from the garden). Chop the rind finely without removing the white pith.
Peel and grate the fresh turmeric rhizomes.
Grind the pepper.
Don't forget the honey!
Put all the ingredients in a 1 L jar and mix thoroughly. Close the jar and put in a dark cupboard for a week.
After a week strain the tincture into a bottle (again, with a rubber seal).
Return the solids to the jar and add 1 cup of white wine.
After 3 days strain the wine into the bottle with the spirit tincture. Mix well.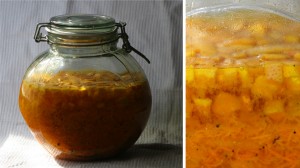 Drink 20-30 ml twice daily, preferably with food.
If you'd like it to be sweeter, add more honey to taste.
The tincture improves with time