There is something magical about capturing and storing medicinal oils and fragrances from plants. For thousands of years people have experimented with many ways of extracting herbal and floral essences to make medicines and perfumes and the results have been spectacular. Now you can learn how to do this yourself!
The easiest methods are making herbal tisanes or decoctions using hot water. On the other hand, other processes (like enfleurage) can be too time-consuming and difficult for modern homesteaders. However, there are many other old methods such as hot maceration, cold infusions or creating alcoholic tinctures which are suitable for making at home and their final products last longer than the water-based ones. They are also reasonably easy to master.
What's even better is you can forage for or grow your own plants to extract fragrances from, to make your own scented skincare and haircare products, medicines, soap or culinary oils. As I like to say, everything starts with a garden!
Now for the practical part:
Boiling: Infusions and decoctions
Infusions are made by pouring boiling water over plant material in a cup, covering and letting it steep. Leaves and flowers are most suitable for such preparation.
A decoction is made by slow simmering of tougher plant parts (roots, bark, fruit and stems) for 10-60 min.
Cold Infusion:
A very simple way to extract oily aromatic substances from plants is cold oil or vinegar infusion. It works best with dried herbs-for example, rosemary or thyme twigs infused in olive oil or wine vinegar for flavoured salad dressing, or dried calendula petals in almond oil for skin treatment.
While fresh plants can be treated the same way, they may need to be scalded with boiling water before immersing them in oil. Woody plants (such as Mediterranean herbs) frequently get mouldy if not scalded before.
Recipe for Calendula oil made from dried petals:
  Sterilise and dry a glass jar with a lid (both can be boiled in water for 5-10 minutes).
Measure dried calendula petals into the dry jar and compact them lightly.
Add carrier oil* of your choice to cover the petals by about 2-3 cm (I use almond oil as it has very faint and pleasant fragrance, which isn't overpowering when I use the oil in creams or soaps).
Shake well, then leave the jar in a bright place (but out of direct sun for 4 weeks).
Strain the oil to remove petals and store it in a dark glass container with a lid for up to one year.
*/ carrier oil (also called base oil) is the bulk oil used to extract aromatic oils from plants or to dilute essential oils (before further processing them into creams or applying on the body). Examples of base vegetable oils are olive, coconut, grape seed or almond oil.
Cold Maceration:
Also known as enfleurage, this very old method of extracting fragrant oils from delicate flowers (such as jasmine) has been used by perfume producers since antiquity. While more complicated, it is not impossible to do this at home.
First, create a chassis: a base sheet of glass or a layer of thick undyed cotton fabric is laid flat, then thick animal fat is spread thinly and evenly on it (important note: both the fabric and fat should be devoid of their natural smell as much as possible).
The next step involves laying fresh flower petals on the fat, and covering them with another piece of chassis. Over time the fat absorbs essential oils from flowers. The timing of this process was a jealously guarded secret skill of the perfumers' guild and it depends on the season, flowers used, ambient temperature etc
Further treatment depends on the flower species, or rather stability of its oils. In some cases, the fat can be scraped from the chassis then gently liquified in the lowest possible temperature. The petals are strained and the perfumed fat after being cooled down and solidified can be reused as chassis for multiple times. It can also be used to add fragrance to leather products and be incorporated in creams.
Fragile oils which cannot be treated in raised temperatures are extracted from the fat using alcohol. The oils then transfer to the alcoholic solution, which in turn is evaporated, leaving behind a semi-solid product called absolute.
Hot Maceration:
Involves the slow simmering of plant material in bulk oils to evaporate water from plant tissues and release plant oils into the carrier oil. While not suitable for most of flowers, it works well with fresh whole plants, leaves, stems and roots. For most plants use 500g of fresh plant material in 500 ml of oil.
Always process each plant species separately as they will release oils at different speeds.
Finely chop leaves and stems or grate roots into a stainless steel pot.
Add carrier oil and gently heat up on the stove. Because oils can be heated to above 100 degrees Celsius before they reach their boiling point, water present in fresh plant parts boils away, visible as small, silvery bubbles and steam.
It is important to remove the liquid from the heat source when the number of water bubbles diminishes, to avoid frying the plants.
Strain the hot liquid immediately into a clean glass bowl, let it cool down, then use in a cream-making recipe or put in a glass container with lid for further storage.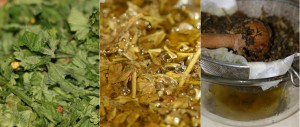 The final product contains oils extracted from plants dissolved in a carrier oil and can be used straight on the skin or as base oils to make creams, ointments or soaps.
Ethanol extraction:
Most commonly ethanol in the form of spirit or vodka (at least 40% of alcohol) is used to extract fragrant and medicinal compounds from either plant material (mainly dry) or from the absolute resulting from enfleurage (as described above). Fragrant tinctures and strong medicinal drops have been made that way from fresh or dried fruit, roots and herbs for hundreds of years.
Ethanol is a very strong preservative and alcoholic preparations will last for many years if stored in airtight containers.
The method is quite simple: chopped fresh or powdered dry plant parts are immersed in alcohol for certain length of time (depending on the plant). The liquid is then strained and bottled in dark glass vessels (I use recycled swing-top beer bottles) for long-term storage out of the light (dark pantry cupboards or cellars are ideal for this).
And, last but not least, a short list of plants worth growing for extracting oils:
Uses: C = culinary, CR = creams/ointments, M = medicinal, S = soap making
Chickweed (Stellaria media) M, CR
Citrus fruit (mainly grapefruit, orange and lemon) C, CR, S
Comfrey = Knitbone (Symphytum officinale) CR, M, S
English marigold (Calendula officinalis) CR, M
Lemon balm (Melissa officinalis) C, CR, M, S
Lemon verbena (Aloysia citrodora) CR, S
Mints (Mentha spp.) depending on variety, mints have a wide range of uses: CR, CU, M, S
Rose geranium (Pelargonium_graveolens) CR, C, S
Rosemary (Rosmarinum officinalis) C, CR, M, S
Turmeric (Curcuma longa) C, M
Valerian (Valerianum officinalis) M