It is winter again, in my garden all the summer crops have been harvested (with the exception of self-seeded cherry tomatoes, which seem to be immortal!) and all the annual winter crops planted. You could think that other than citrus fruit and greens there is nothing to pick from a productive garden at this time of the year.
But growing useful plants is about more than annual vegetables and fruit trees, more than about just food. Winter is the time of the year when a group of valuable plants are getting ready to be dug up and processed to make food and medicines: perennial underground crops.
These plants accumulate nutrients and minerals in their roots, corms and rhizomes. All energy coming from the sun and nutrients absorbed from the soil go into their roots while all leaves die back for winter. If left in the ground in a frost-free area, the plants will sprout back when spring comes (although they will be crowded). I prefer to dig them up -saving the best parts for planting in spring, in fresh soil and with plenty of space – and process the rest.
Below I listed my favourites, which I replant every year (some of them were recently featured on the Moss House segment on ABC Gardening Australia show):
COMFREY (Symphytum officinale)
A large-leaved, deep-rooted perennial, it is recognised as the most versatile and useful of permaculture plants.
Comfrey is rich in nutrients, living manure, because its long taproots draw nutrients from deep layers of subsoil and bring nutrients into the leaves. I plant it around fruit trees and chop the leaves several times a year to spread them as mulch and to add to the compost heap as a high-nitrogen activator. Comfrey roots break through clay soils creating channels for water and worms, improving soil structure. If you allow the flowers to form, they attract many beneficial insects. Leaves fed to chickens help with forming sturdy eggshells, thanks to high calcium content.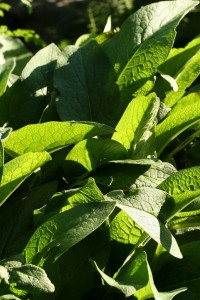 Medicinal uses:
Known for centuries as knitbone, comfrey is a powerful medicinal plant used to treat swelling associated with broken bones and sprains, as well as bruises, surgical scars and varicose veins. Both leaves and roots work as ointments and poultices, but the roots are more potent. After the autumn harvest they can be dried and stored until needed.
See my recipe for a comfrey ointment on the Gardening Australia website
Gardening notes:
Use sections of the root or divided crowns and plant into loosened up soil with added compost, in full sun or partial shade.
Make sure you place comfrey it where it will be allowed to stay for decades – removing this plant is very difficult, because it grows back from very small pieces of root! It also self-seeds, so if you are concerned about that, trim the whole plant regularly to prevent flower stalks from developing.
HORSERADISH (Armoracia rusticana) 
A hot-tasting white root of this south-European plant needs to be grated to release the pungent mustard oil. Traditionally it is served with meats and sausages, particularly with pork, because it stimulates and acts as a cleanser for the digestive system and prevents constipation. Moreover, the plant also has antiviral, antibacterial and antifungal properties.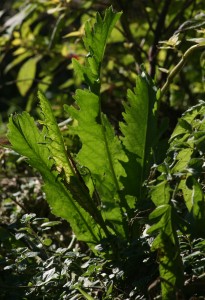 In the kitchen:
Grated root should be used immediately or preserved with vinegar to be served with meat and cheeses. Pieces of root are great for making Polish-style fermented cucumbers.
You can wrap fresh meat and cheese in fresh horseradish leaves to protect them from spoiling; sourdough is left to ferment and then baked on a layer of leaves.
Medicinal uses:
Sinusitis: grate about ¼ of teaspoon of fresh root, hold it in the mouth to decrease the feeling of pressure. It loosens up the mucus blocking sinuses.
Gardening notes:
Good quality soil, enriched with manures is a must. Large leaves may suffer and wilt in sunny position, so try a spot with plenty of morning sun and afternoon shade.
Be aware that horseradish can spread and take over more space every year. Grow it in a contained space to prevent this happening.
SWEET POTATO (Ipomoea batatas)
A starchy tuber grown at the base of a rambling vine, sweet potatoes are a versatile staple food, consumed cooked, baked or made into chips. Young leaves are cooked as greens or added to stir-fries. In the traditional Chinese medicine they are recommended as a much healthier alternative to common potatoes.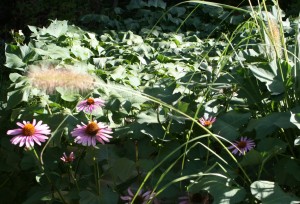 Gardening notes:
Sweet potatoes can be propagated from cuttings (slips) or by planting young tubers in good quality soil, with plenty of compost worked in. Be aware that the using tubers could result in transferring weevils from the mother plant.
The plants can spread quite wide and grow roots (and tubers) where the vines touch the soil, so make sure they have enough space to grow!
TURMERIC (Curcuma longa)
The turmeric root is mostly known for its culinary use and medicinal value as a powerful anti-inflammatory. Read what I wrote about this great plant in another blog entry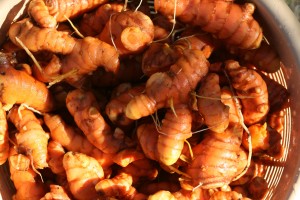 Gardening notes:
This is a subtropical plant, so avoid frost-prone areas. Plant turmeric in well fertilised soil in a sunny position. Space the plants about 40 cm apart as the rhizomes grow sidewise rather than down deep. Water well and often.
WATER CHESTNUT (Eleocharis dulcis)
It is a mud-loving plant, which can be grown in ponds or containers which are able to retain water at the bottom. The spiky, sedge-like leaves provide an interesting upright element in a garden if planted amongst other vegetation. The crunchy corms are harvested when the leaves turn yellow and need to be peeled before being processed.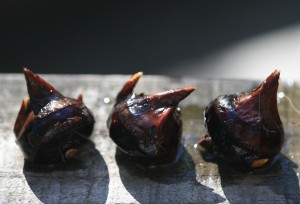 In the kitchen:
They can be eaten fresh (tasting like a crunchy apple/coconut cross!), pickled, cooked or grilled and are a popular ingredient in Chinese dishes.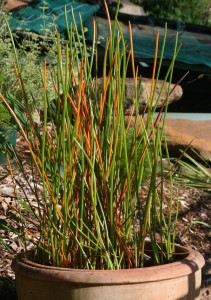 Gardening notes:
Make sure the container in which you grow water chestnuts sits in water, up to 1 cm above the soil surface. I grow mine in an old concrete laundry sink lined with pond liner to keep water level high.
YACON (Smallanthus sonchifolius)
Also known as Peruvian ground apple, this tall, tuberous perennial is a relative of a sunflower – you can tell this looking at its large, soft leaves and the shape of small yellow flowers appearing at the end of growing season.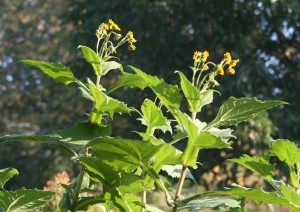 In the kitchen:
The crunchy, sweet tasting storage tubers contain fructooligosaccharides, which are not metabolised in human digestive system. This makes yacón a good replacement for sweet fruit to people diagnosed with diabetes. These complex polysaccharides are also prebiotics (food for beneficial bacteria), that enhance colon health and aid digestion.
Eat yacón raw grated in salads, bake or cook, juice and reduce over slow fire to make a healthy sweetener. But my preferred method is fermenting!
Gardening notes:
For the tubers to mature, yacón needs a long growing season.  Although it is pretty hardy (can withstand mild frosts) and grows in most soils, you will harvest more tubers if the soil is loamy and fertilised with compost.
ROOT STORAGE
A root cellar is a great place to store these vegetables, but if you don't have one, use buckets of vermiculite for long-term storage and put them in a cool, dry place.
Choose undamaged roots, lay some at the bottom of a bucket making sure they do not touch, cover with vermiculite and add more roots. Vermiculite inhibits bacterial growth but doesn't absorb moisture from the vegetables.
Water chestnuts store best of you peel and chop, then freeze them.