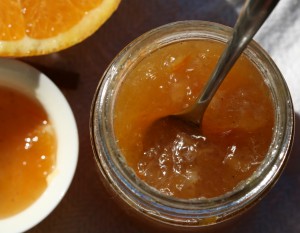 I like this time of the year. From early mandarins in autumn to grapefruit in late winter, the cold months bring an abundance of aromatic, bright coloured, and juicy citrus fruit. It is so mouth-watering to take a bite into an orange just picked from a tree! But what do you do when you have more fruit than you can eat? Preserve it, of course.
I'm sharing two of my favourite recipes: pickled (salted) lemons and classical orange marmalade with a twist.
Pickled lemons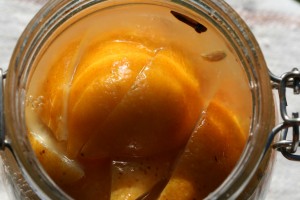 You pickle whole fruit – rind and flesh. The aromatic rind can be used in couscous, to spice up fish and poultry. The liquid should be strained and makes a powerful, acidic household cleaner. Spray it on mouldy bathroom tiles, clean greasy pots and ovens, or bleach stains on white fabrics.
Ingredients
0.5 kg (3-4) lemons, well scrubbed
0.5 cup large grain pure salt
1 cinnamon stick
6 whole cloves
2 bay leaves
1.5 cups fresh lemon juice (approximately)
 Method
Wash and dry a 2 litre (8 cup) glass jar with a glass lid (a metal lid may corrode with time).
Cut the lemons into quarters lengthways without cutting through to the base so the segments remain joined at the bottom.
Place lemons in a large, clean bowl and sprinkle rock salt into the centre of each. Massage each lemon firmly against the base and side of the bowl to extract as much juice as possible, without tearing the skin.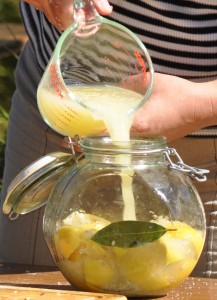 Place the lemons, cinnamon stick, cloves and bay leaves alternately in the jar, fitting the lemons in as tightly as possible. Pour any liquid and salt remaining in the bowl into the jar and top up with enough lemon juice to completely cover the lemons.
Seal, label and date, then let stand for at least 6 weeks before using. The lemons will soften in the brine and may start to float. As a result, they may not be entirely covered by the liquid and can develop a harmless white mould. If this occurs, simply wash it off before using.
To use, remove a lemon from the brine and cut off as much rind as you need. Wash it well. When you have used all the rind, strain the remaining liquid and bottle it for use as a cleaner.
Notes:
This method of preserving lemons is popular in North African cuisine. Finely chop the rind and use to flavour pilafs, couscous and Moroccan tagines, or combine with chopped capers, parsley and garlic to spoon over fish. Stuff chicken with whole pickled lemon quarters.
The lemons will keep for up to 6 months at room temperature.
Orange marmalade
I like to add limes to this recipe, but you can make it with just oranges, grapefruit, mandarines etc
Ingredients
3 kg of citrus fruit (I used 2.5 kg of oranges and 0.5 kg of limes)
0.25-0.5 L (1-2 cups) of water or orange juice
2 kg of jam setting sugar (or any other jam setter as per instructions on the pack). A mix of sugar and pectine can be used as well – follow the producer's instructions.
Optional: rind from 1-2 oranges, 5 cm of fresh ginger root (peeled and finely grated), 1 teaspoon of ground cinnamon.
You will also need a saucepan large enough to fill with all ingredients and sterilised preserving jars with lids.
Method
Wash the fruit and remove the skin – just peel it with your hands. Remove the white "lining" found under the rind. Save the skin from the 2 best looking oranges.
Slice the fruit in half, across the segments. The tough, white part in the centre must be cut out and discarded. Remove seeds. Cut the halves into thin slices and chop them up. Save any juice that leaks out.
Scrape and discard the white lining from the saved orange rind, then chop it finely.
Put everything (fruit and chopped rind) in a large pot and stir the jam setter into the chopped fruit. Put the mix in a big pot and set aside for a moment.
Note: you can also add some spice: 1 teaspoon of ground cinnamon or cloves, finely grated ginger.
Cook the fruit: add 1-2 cups of water or orange juice in a saucepan and simmer for 10 minutes.
Bring the mixture back to a full boil. Stir the mix and bring it to a full boil, hard, for one minute.
Test if it is thick enough: put ½ teaspoon of the jam on a cold saucer. It should quickly set,  not flow.
Fill preserving jars (best if they are still hot from being sterilised) to within 1-2 cm of the top. Wipe any spilled jam off the edges, seat the screw-top lids on jars and slightly tighten them. Then put them into the boiling water bath for 15 minutes.
Lift the jars out of the water, tighten the lids completely and let them cool without touching or bumping them in a draft-free place.
Notes:
It may take up to two weeks for the marmalade to set and thicken up, so wait before you eat it! Properly pasteurised preserves will last from 12 to 18 months after you prepare them.