Moss House Open Garden – Spring 2017 
Sustainable House Day, Sunday, September 17th, 10am-4pm, Denistone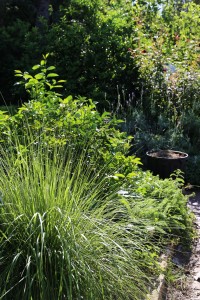 Come for an opportunity to visit this award-winning food garden which featured twice in the ABC Gardening Australia show in 2016.
The garden was designed with the primary goal to provide the owners with food, medicinal and fiber-producing plants.
A very important part of the Moss House garden design is rainwater storage and waste management. Together with soil growing and food and medicine production they contribute to the household's self-sufficiency and sustainability.
Visitors will get to see a large suburban food garden with sustainable features such as water storing swales, eleven raised vegetable beds (seven of which are self-watering), large composting bays and worm farms, a chicken forest, native stingless bees beehives, insectary gardens, a habitat pond and more. 
The garden contains edible and medicinal herbs, a wide variety of annual vegetables grown using crop rotation system, around 30 fruit trees planted along water-holding swales together with perennial vegetables; a banana circle and native plant habitats. The produce is either eaten fresh or preserved in various ways for storage and pickles, chutneys, dried herbs and fermented foods fill the pantry.
Talks and garden tours
The day will be packed with interesting activities, including mini-workshops and talks (see below), permaculture information stall, produce swap, display of products made from the produce grown in the garden, and plant sale. Guided and self-guided tours throughout the garden will answer any technical questions visitors may have about urban food growing and permaculture.
Day Events: 
10:00 – garden opens
10:00 -11:00 – produce swap by Crop Swap Sydney
10:40-11:10 – guided garden tour
11:30-12:00 – "Medicine from Your Garden" – talk and demo on herbal preparations by Moss House
12:30-13:00 – guided garden tour
13:30-14:00 – "Fermenting Basics" – talk and demo on vegetable ferments by Moss House
14:30-15:00 – guided garden tour
15:30-16:00 – guided garden tour
16:00 – garden closes