Wild Mushroom Foraging Tours (March-May)
2018 dates: March 10, 17, 31; April 14, 21; May 12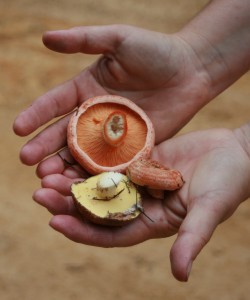 A guided mushroom hunt is a great opportunity to learn how to successfuly forage for nature's bounty – gourmet wild mushrooms, growing in Autumn in cool climate pine forests around Sydney. They are considered delicacies in Europe and are sought after by Sydney chefs!
We meet at 10:30 am at Hampton beyond the Blue Mountains and from there go to the mushroom forests for our foraging tour. Your guide will teach you how to recognise and pick wild edible mushrooms, she will run a safety check of your basket, then prepare a fresh barbecue lunch from the day's harvest.
After that there will be a mini-workshop on preserving mushrooms: a great opportunity to learn about drying, pickling and fermenting.
You will come back not only with what you found, but also with confidence to safely recognise two varieties of edible mushrooms and knowledge about how to preserve them.
This year you can choose from two travel options:
drive yourself to the meeting place – $80 per person (children under 12 only $5 for lunch)
minibus pick-up at 9:30 from Katoomba Station (16:15 drop-off) and 9:45 from Blackheath (16:00 drop-off) – $110 per person; $35 per child 8-12 years old (only over 8 years old on the bus).

This option is available on March 17 & 31, April 14 & 21
REGISTER by emailing info@mosshouse.com.au – direct booking helps to keep the tickets cheaper!
Once registered, you will receive instructions on the meeting place, what to bring and a fact sheet about wild mushrooms.
A mushroom hunt is a great outdoors activity, especially for children who are fascinated by finding not only edible mushrooms, but also fairy circles!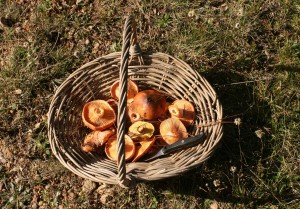 The most popular edible mushroom species growing near Sydney came from the northern hemisphere and colonised pine plantation forests in cooler areas such as highlands beyond Blue Mountains. These delicacies such as Red Pine Mushroom (Saffron Milk Cup) and Slippery Jack are highly prized by chefs and hard to buy.
————————-
Comments from recent mushroom hunt participants:
Hi Margaret, thank you for being such a fantastic and knowledgeable guide! Everyone told me how much they enjoyed yesterday. It was a lot of fun and we ended up picking a lot of mushrooms and the apples and blackberries were a great bonus! (Martin, Swiss Club of NSW)
Just want to say that me and Chris had an absolutely fantastic day yesterday, we couldn't stop talking about how fabulous it was in the car on the way home, we both really really enjoyed the trip thoroughly.  
Thank You so much for the amazing day for teaching us the different mushrooms species, setting up the fire, cooking etc. We definitely learnt a lot from the trip.  (Carrie & Chris)