Winter is the best time to think about strawberries!
It is the mid-year solstice in Australia today, the first day of astronomical winter. At the time when you are all rugged up and nursing a cup of hot tea, planning for spring harvest will tide you over the coldest part of the year. Many bare-rooted plants are available now, particularly deciduous fruit trees and strawberries. Just the thought of fresh strawberries straight from your garden should propel you from your sofa towards the nearest plant nursery!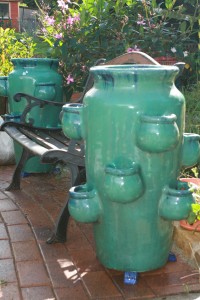 If you have no garden, you can still plant strawberries in pots. A common problem for plants in a strawberry pot (with pockets in the sides; also known as herb planter) is that not all plants get water down to their roots when watered from the top, especially when the pot is as tall as mine which you see here (70 cm tall with 8 pockets).
To deliver water to all plants I use a perforated PVC pipe (polypipe) placed inside the pot. The pipe serves as a moisture reservoir and will encourage the strawberry roots to grow deep into the pot rather than towards the surface of the pockets.
You could use either a piece of agricultural/drainage pipe (with slots already cut into it) or drill holes in a standard polypipe, like the ones used by plumbers.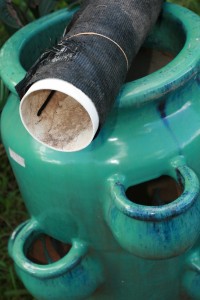 Cut a length of pipe 5 cm shorter that the inside height of the pot, cap it at one end and wrap in a piece of drainage cloth (geotextile, agfabric).
Pack the pipe tightly with moist vermiculite or other water-absorbing material, such as perlite, cocopeat etc Be aware than unlike vermiculite (which is a mineral), organic materials such as cocopeat will disintegrate in time. Cover the bottom of your pot with 5 cm of coarse sand and stand the pipe on the sand capped end down.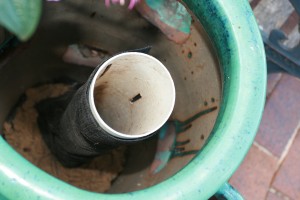 Put the pot in its final position – it will be too heavy to move once full! Fill the pot gradually with good potting mix with added vermiculite, planting strawberry plants from the bottom pocket up every time the level of the mix reaches each pocket. Water well with a seaweed solution.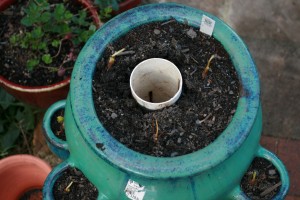 Now every time you water plants in the pot, pour water not on the pockets, but from the top and into the pipe as well. Vermiculite acts as a reservoir of water, slowly releasing it inside the pot.
I plant bee-attracting perennial camomile and Sweet Alice (Alyssum) on top of the soil to increase strawberry pollination rate. A small pot with flowering plants is set to cap the polypipe from the top.
Happy harvesting in springtime!