The weather is already crispy and chilly up in the highlands beyond the Blue Mountains. With cloudless skies the frosts may start soon and then the forest mushrooms will die back. They have already started drying up because of the few days of strong winds, so when we went into the Jenolan State Forest last Saturday, we knew this was our last chance at mushroom picking this year.
It was windy when we ventured into the first forest and there were plenty of Slippery Jacks and Saffron Milk Cups around. We also checked two older, sheltered pine forests.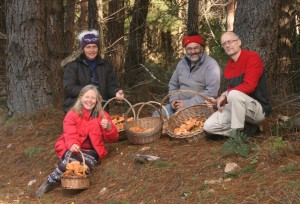 Two hours later basketfuls of beautiful mushrooms were compared and checked.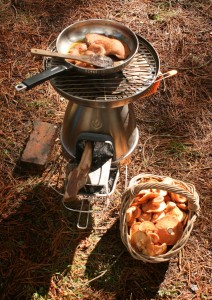 Then we cooked some of our harvest and stories were told around a woodfire stove.
I gathered mainly Saffron Milk Cups for fermenting. Crisp and crunchy, they are one of the few mushrooms that can be fermented whole. So there it is, a traditional Polish fermented Saffron Milk Cup mushrooms recipe:
What you will need:
A fermenting crock or wide-necked glass jar.
For 1 kg of mushrooms (tops only) 30-40 g of pure salt and 1 tablespoon of sugar (mixed together).
Optional: 2 bay laurel leaves and a teaspoon of pimento (allspices). They need to be immersed in boiled water before being added to the mushrooms.
Method:
Layer the tops flat in the crock, sprinkling the salt and sugar mixture over each layer. If you use spices, add a few pimento seeds at the same time as salt, place one bay laurel leaf at the bottom and one in the middle layer.
After you fill up the crock, weigh the mushrooms down with a glass plate and a jar of water or a special ceramic fermenting weight.
Salting causes the mushrooms to release juices. If after two days the liquid doesn't fully cover the mushrooms, add some brine made from 60 g of salt dissolved in 1 l of boiling water (cool it down before adding it to the crock).
Let the mushrooms ferment for a week or two (taste them after the first week), then transfer them to smaller glass jars, cover with brine and a thin layer of oil, close the lid tightly and keep in a fridge.
If you would like to keep them for longer, then you need to pasteurise the jars in a water bath for 10 minutes.