Kimchi (Korean for cabbage) is a type of vegetable ferment prepared by mixing chopped root and brassica vegetables with a hot, spicy paste.
The recipe below is my invention and I like to call it "red kimchi Polish style" because it is based on a very powerful mix of vegetables used in traditional Polish ferments: red cabbage and black (Spanish) radish. These two combined create a powerhouse of vitamins and minerals to nourish the body and protect it from many diseases. Add to it garlic, onion and ginger and it becomes even better!
One of the oldest cultivated plants, the root of black radish is recognised as a nourishing and medicinal plant which stimulates digestion and is a liver cleanser (antibacterial, promotes bile production). It helps to combat cough and upper respiratory tract infections and is also used in cases of bladder stones and anaemia. The root is so valuable because of the high density of minerals and vitamins it contains: antibacterial sulphur compounds, sugars, enzymes, mineral salts of calcium, iron, magnesium, potassium and phosphorus, vitamins B1 & B2, C and PP.
Red cabbage is a traditional cure for anaemia and swollen limbs. Thanks to its high content of vitamin C (which increases during fermenting!), folic acid, vitamin B1 and anti-oxidants, eating this cabbage boosts the immune system and acts as a cancer preventative.
Recipe ingredients: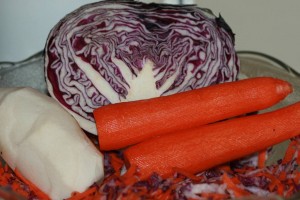 2 parts (by weight) of red cabbage, 1 part of black Spanish radish and 1 part of carrots
Salt: 10-14 grams of pure seasalt per each 500g of the vegies
Kimchi paste (proportions for every 2.5 kg of vegetables):
a cup of grated ginger
8 garlic cloves
4 medium onions
a small chilli (you can use less or more depending how much you like spicy food).
Preparation:
Grate or finely chop all vegetables into a large mixing bowl*. Mix them with salt and gently massage till they start releasing juices. Cover with a tea towel and set aside for 4-6 hours or overnight. Then use a food processor to make the kimchi paste.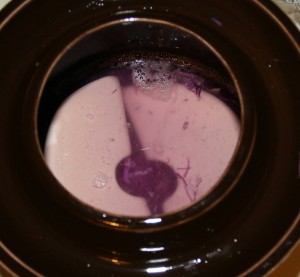 Drain the vegetables (reserving the brine) and mix them with the paste. Put all in a fermenting crock or large, wide-necked jars, compressing the vegetables with your fist (or a wooden stomp) after adding each inch of vegetables to remove pockets of air. Cover with the reserved brine. The liquid should completely cover the vegetables. You can weight them down with a special ceramic weight, a glass saucer or cover with a "sacrificial", well washed cabbage leaf.
The mixture will become pink. If you use glass jars, leave them in a dark place; crocks can seat on a kitchen top provided they are covered with a lid. Give the kimchi a week before you first taste it. It will fully develop in about 2-3 weeks, depending on the room temperature and local bacteria colonising the ferment. When you decide the taste is just right for you, put the jars in the fridge for storage up to 3 months. Enjoy!
* as with all ferments, use glass or ceramic vessels rather than plastic or metal ones