During a preserving workshop today I was asked for a recipe for pickled wild mushrooms I shown a jar of. I used the recipe below to preserve young Saffron Milk Cups in sweet and sour brine, but it works even better for Slippery Jacks (do not forget to peel the tops first!).
For pickling use whole young mushroom tops – don't slice them. They need to be cleaned and blanched before pickling:
Wipe or wash mushroom (depends how dirty they are).
Blanch in boiling salty water for 10 minutes.
Strain and cool in cold water for a couple of minutes.
Strain again, put in small, clean (sterilised) glass jars.
Prepare the pickling brine – the proportions are for 1 kg of mushrooms (tops only, no stalks):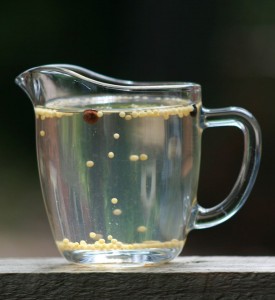 Mix 1.5 cup of white wine vinegar, the same amount of water, 100 g sugar, 2 tablespoons salt, several grains each of black pepper, cloves and pimento (allspices), one teaspoon of mustard seeds.
Quickly bring to boil and take off heat, so vinegar doesn't evaporate.
Pour hot brine over mushrooms already in jars.
Make sure there are spices in every jar.
Lightly screw on the lids, pasteurise jars for 45 min in a boiling water bath
Remove, tighten the lids and leave to cool down. Check if the lids are sealed.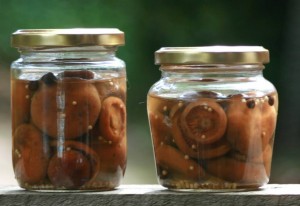 Leave in a dark place for about 2-3 weeks before eating. This pickle will last for about a year to 18 months.
These young pickled mushrooms are great to accompany dinner or cheese, to be put in salads or on sandwiches. Or try with kaviar and ice-cold vodka